Recent studies have projected temperature increases of 2.7-3.5C by 2100 associated with the current Intended Nationally Determined Contributions of the parties to the United Nations Framework Convention on Climate Chang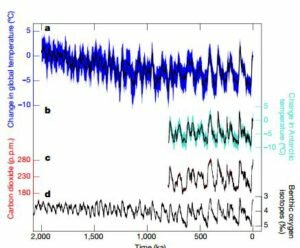 e. However, the sobering reality is that the inertia of the climate system ensures that temperatures will continue to increase well beyond this in the centuries and millennia to come. A new study by Stanford scholar Carolyn W. Snyder suggests that temperature increases beyond 2100 may be truly alarming. Synder's study sought to reconstruct global average surface temperatures over the past 2 million years using a spatially weighted proxy reconstruction of globally averaged surface temperature.
Among the study's findings:
Based on estimated greenhouse gas radiative forcing derived from proxy reconstruction, a doubling of atmospheric carbon dioxide (3 W m-2) would ultimately translate into a 9C increase in temperature (7-13C, 95% interval);
Stabilization of atmospheric concentrations of greenhouse gases at today's levels may already have committed the globe to 5C (3-7C, 95% credible interval)over the next few thousand years.
The study's findings could provide good grist for class discussion on several issues, including whether it's possible to substantially bend the projected temperature curve through more aggressive de-carbonization of the world economy, this generation's obligations, if any, to generations over the next few thousand years, and the potential role of climate geoengineering, including negative emissions technologies, in potentially reversing course of temperature projections.